DISINFECT YOUR WORK ENVIRONMENT WITH ENVIROSHIELD™
JAN-PRO's exclusive disinfection technology, EnviroShield™, effectively eliminates 99.9% of harmful bacteria and viruses. The application of our disinfection system is ideal for preventing or treating the outbreak of viruses and bacteria, such as MRSA, H1N1, E-Coli, Listeria, COVID-19, and many others that can be found in workplaces.
See it in action!


HOW IT WORKS

The Advanced EnviroShield™ disinfection system combines three key components: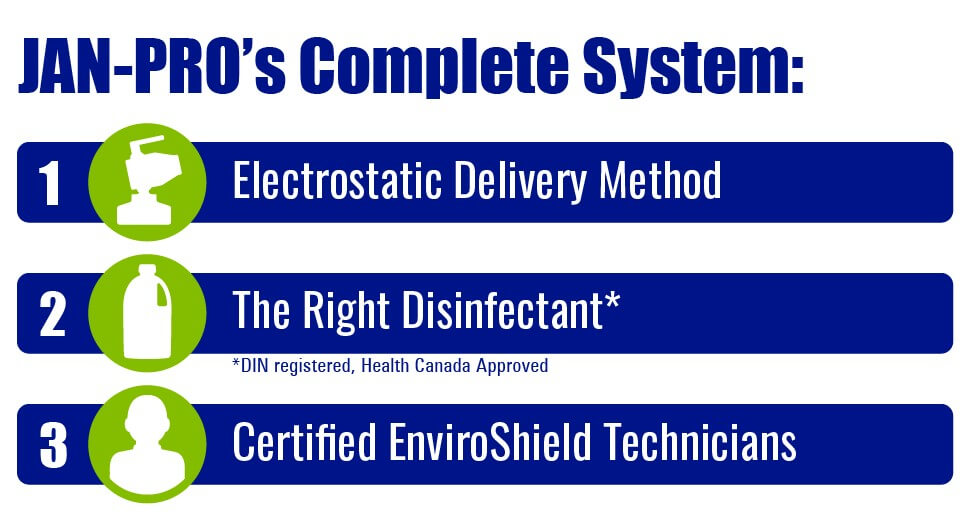 First, you need the right equipment and the right products. JAN-PRO uses an electrostatic spray and a hospital-grade disinfectant that was specifically formulated to be used in an electrostatic sprayer, is DIN registered and Health Canada Approved.

Next, EnviroShield™'s electrostatic disinfection spray technology provides complete coverage, unlike other sprayer machines or foggers made for pest or weed control, and actually wraps around all surfaces to disinfect. This is thanks to the electrostatic charge. EnviroShield™ treats hard-to-reach surfaces, objects, and areas that other disinfection systems cannot reach.

The third and final component of JAN-PRO's advanced disinfection system is Certified EnviroShield™ Technicians. No individual can provide these disinfection services unless they have successfully completed the EnviroShield training. Our Certified Technicians are current JAN-PRO business owners that have completed this supplemental training and are now certified in the EnviroShield system. JAN-PRO has several Certified Technicians available to provide this service in all of our Canadian locations.
IS ENVIROSHIELDTM SAFE?
EnviroShield is 100% safe with minimal downtime! Individuals can re-enter the space right after the spray has been completed.

With a registered DIN product and Health Canada Approved, the EnviroShield disinfection system™ is non-corrosive, food-safe, does not leave behind any toxic residue, does not affect most materials, does not stain, and requires minimal personal protective equipment for the user or special precautions in the places where it is sprayed.
What is the active ingredient in the EnviroShield™ system?
The disinfectant solution is based on stabilized chlorine dioxide. The system delivers micro-bursts of chlorine dioxide to microbes resulting in the physical destruction of a multitude of dangerous organisms, including bacterial and enveloped viruses. Once the microbe is destroyed, the disinfecting agent ceases its reactive process, insuring no free chlorine dioxide will be released eliminating any health risk or physical hazard.
Is the process safe for the environment?
Absolutely! The lack of handling, transportation, storage, and disposal requirements make EnviroShield™ a safe product for internal and external uses.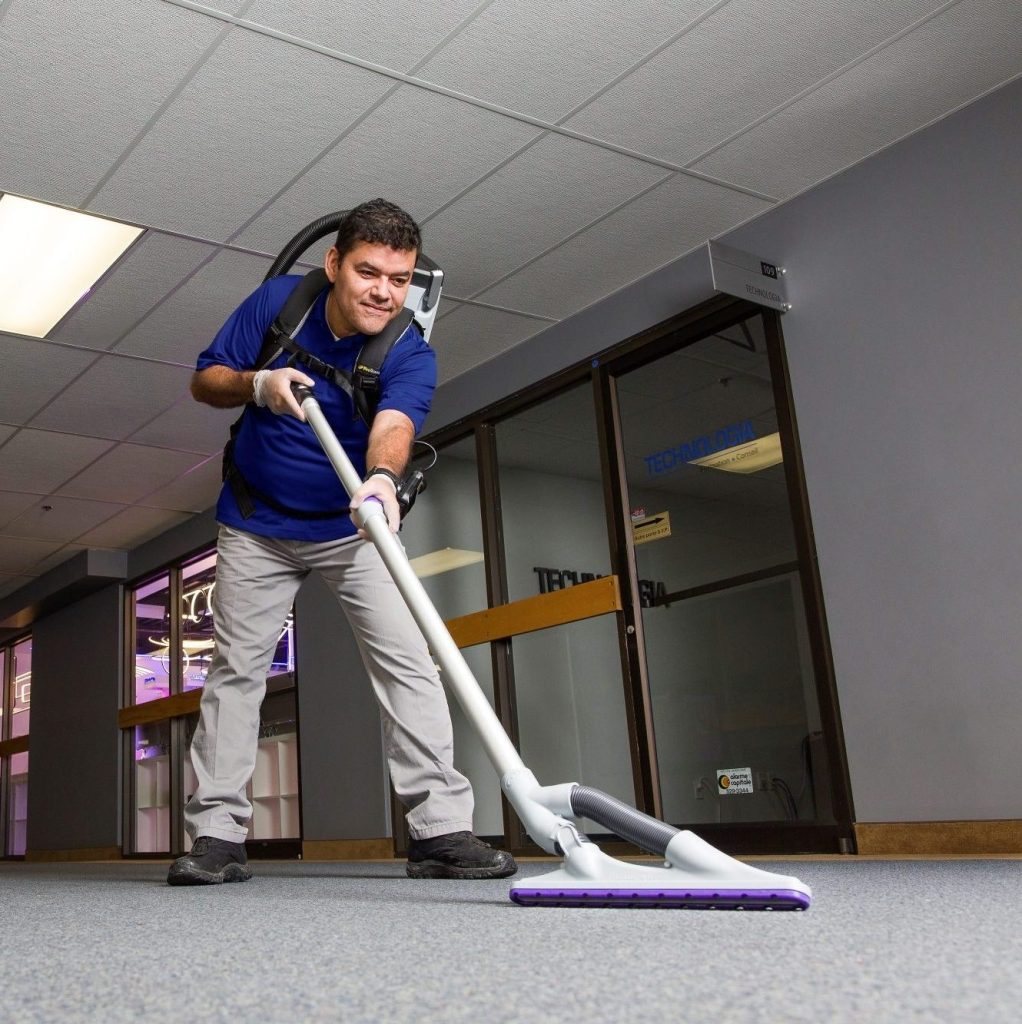 GET IN TOUCH WITH US TODAY
JAN-PRO's EnviroShield™ cleaning services are based on an attention to detail and customer satisfaction you can't find anywhere else.