JAN-PRO COMMERCIAL CLEANING PROCESSES & PACKAGES
WELCOME TO THE ELEVATED SERVICES YOUR BUSINESS DESERVES.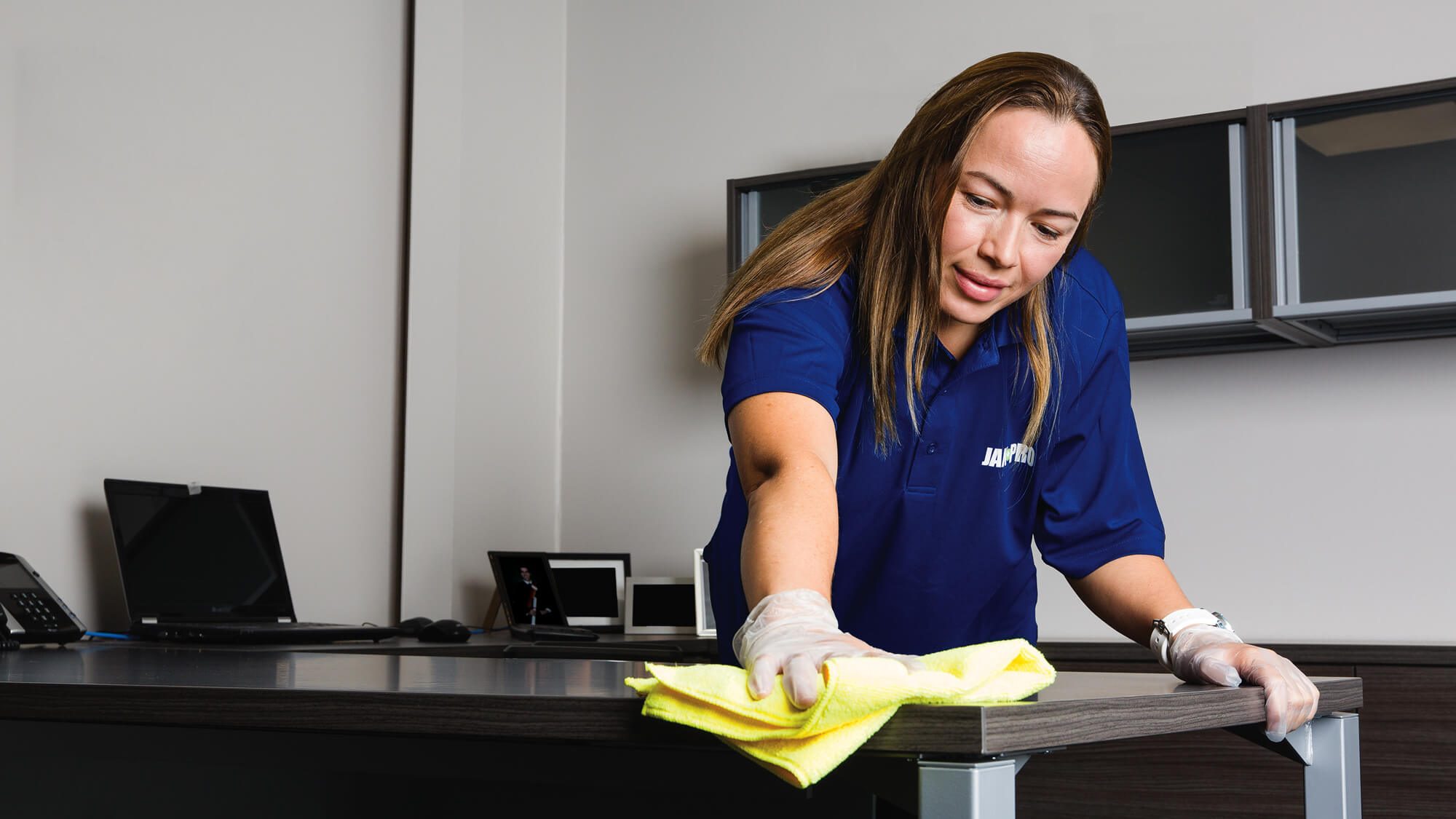 JAN-PRO strives to provide all customers with the clean they expect.
Maybe you're fed up with your current commercial cleaners—tired of dealing with the hassles and unanswered concerns. You want a service you can trust and appreciate. You want to rely on a dependable and consistent commercial cleaning provider that doesn't cut corners or treat your business like a number. It's time to turn to JAN-PRO. Simply come into a clean working environment every day.
WHAT WE CLEAN
Every organization is different. That's why we don't have a "one-size-fits-all" commercial cleaning schedule. We customize our services based on your needs, including the work that needs to be done, where it needs to be done, and the frequency of cleaning you require.

Our commercial cleaning services go far beyond regular cleaning. We make sure that our certified owner-operators meet JAN-PRO standards, guaranteeing a level of thorough cleanliness and disinfection for a healthier work environment.

So, what do we clean? Well, what do you need? We make sure we cover all the basics—and beyond!
kitchens and kitchenettes
kitchens and kitchenettes
SPECIALIZED SERVICES


On top of your regular cleaning services, JAN-PRO provides a variety of specialized services. These are usually bigger deep cleans that ensure the continued maintenance of your facility. Special cleaning services can include:
 

Floor stripping, waxing and buffing
Window cleaning
Top scrub
Carpet extractions
And more!
JAN-PRO CERTIFIED CLEAN.
IT MATTERS. AND IT MAKES A DIFFERENCE.
JAN-PRO knows that you can hire anyone to clean your facility. No industry standards, licenses or certification processes can put one company above another.

Because of that, JAN-PRO has created its own standards of clean. Our owner-operators do not start cleaning facilities until they have passed our comprehensive certification program and received their JAN-PRO certification.
They learn how to consistently follow our industry-leading techniques and processes. What's more, they become experts in using all of our advanced cleaning equipment, materials and solutions.
---
JAN-PRO PACKAGES


JAN-PRO offers a range of affordable commercial cleaning packages based on your company's requirements and budget. You can easily upgrade services as you see fit.


Not sure which package is right for your business? Contact us to build a tailored cleaning schedule with one of our account executives!
Basic
get started
BASIC INCLUDES:
Professional cleaning
High-touch point disinfecting every week
Essential
get started
Essential includes:
Professional cleaning
High-touch point disinfecting every visit
Increased scope of disinfection
Defense 360º
get started
Defense 360 includes:
Professional cleaning
High-touch point disinfecting every visit
Increased scope of disinfection
EnviroShield Advanced disinfection weekly
GET IN TOUCH WITH US TODAY
JAN-PRO's commercial cleaning services are based on an attention to detail and customer satisfaction you can't find anywhere else.