WHY CHOOSE JAN-PRO
THERE'S COMMERCIAL CLEANING. AND THEN THERE'S JAN-PRO COMMERCIAL CLEANING.
THE JAN-PRO GUARANTEE
WE DON'T STOP UNTIL YOU ARE THRILLED WITH OUR WORK.
We are so confident about our commercial cleaning services, we guarantee our work— a level of commitment you won't find anywhere else. Every day, JAN-PRO Certified Business Owners across Canada bring their clients the kind of high-quality cleaning service that has made JAN-PRO the #1 commercial cleaning franchise for 15 consecutive years, as evaluated by Entrepreneur's Franchise 500® list.
We provide a 100% Satisfaction Guarantee that your JAN-PRO team will:
Complete all of your regularly scheduled commercial cleaning services on time
Respond to and promptly resolve any specific service issues within one business day
A complimentary cleaning service will be scheduled if JAN-PRO fails to meet either of these obligations.
Our dedication begins with a positive attitude, a can-do mindset, and a drive to always do better! This is what makes JAN-PRO a different kind of commercial cleaning company your business can count on.
It's no wonder more than 96% of our customers come back year after year for their cleaning service needs!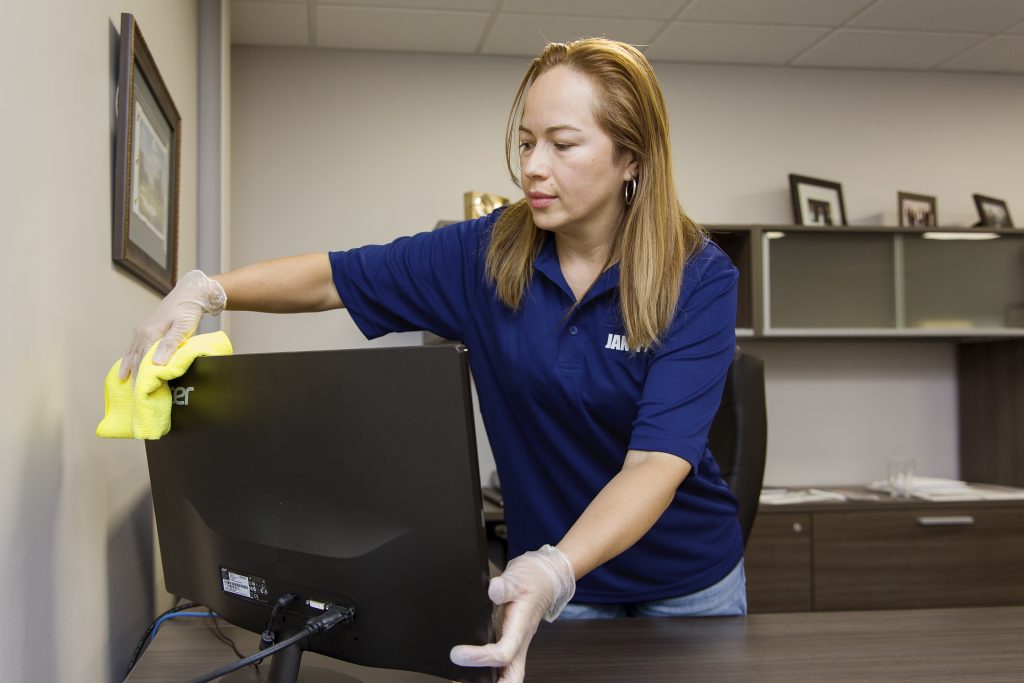 WHAT IS JAN-PRO QUALITY?
What is the definition of "clean"? Ask 100 people, and you'll likely get 100 different answers. At JAN-PRO you'll only ever hear one answer: it's only clean when our quality control process confirms it's clean.

As the top-rated commercial cleaners in Canada, you entrust us with the keys to your business. We take that mere fact very seriously. That's why we have implemented an extensive certification process as well as a hands-on methodology for assessing work provided. While many cleaning companies sell a similar concept, sadly few deliver it with sufficient regularity or depth of measurement.
At JAN-PRO, we deliver on our quality promise as we hold ourselves accountable for the levels of service we provide.
Our three-pronged approach is much more demanding. Here's how it works.
JAN-PRO Certification Program for Owner-Operators
All JAN-PRO owner-operators receive the most rigorous certification in the industry. This multi-week, in-depth process covers all aspects of commercial cleaning for different market sectors as well as how to create more value for customers.
JAN-PRO Technics for impeccable commercial cleaning
JAN-PRO is always on the lookout for the latest best practices and the most advanced products and equipment available for diverse commercial cleaning applications. These include:
Advanced, hospital-grade electrostatic disinfection technologies with the EnviroShield™ system for broad-spectrum coverage
Backpack vacuums with four-level filtration and ratings that exceed HEPA standards for cleaning the air
Colour-coded microfiber cloths designed to trap dirt and hold it in a positively charged state for more effective cleaning
Green cleaning chemicals that cover a greater area while using less product
JAN-PRO Tracker for quality evaluations
Our Certified Business Owners check every aspect of your cleaning requirements and determine what and where to focus their attention and expertise. After an agreed initial period, usually, 30 days from the first clean, a JAN-PRO Brand Standards Specialist accompanies a Certified Business Owner on site and physically inspects your property and measures lasting impressions. This process uses a 50-point checklist so that nothing is left to chance. Any service adjustments are made—and quality evaluations continue on a regular schedule.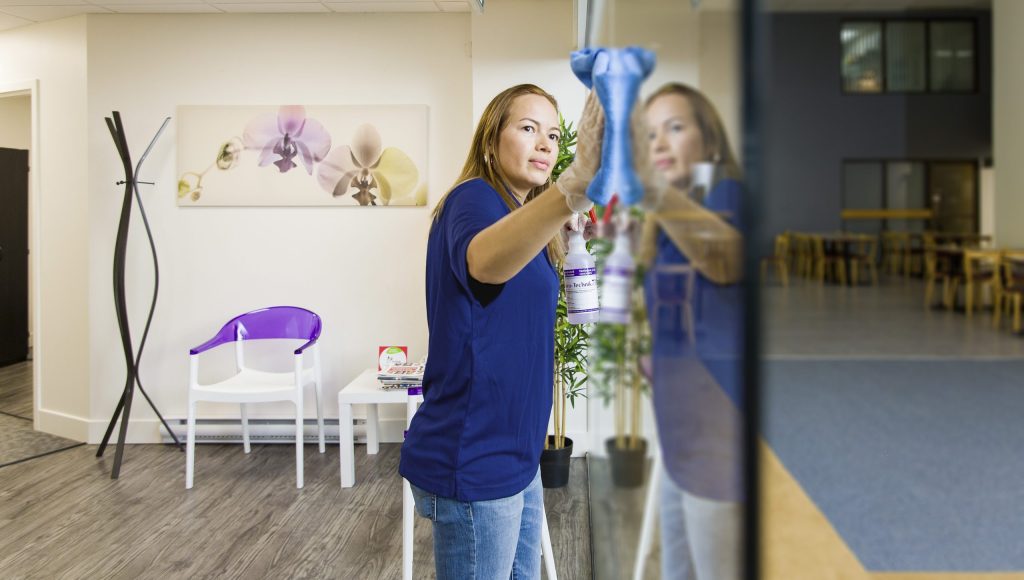 ECO-FRIENDLY COMMERCIAL CLEANING.
We don't greenwash when it comes to our commitment to sustainability

At JAN-PRO we want offices, facilities or factories to be spotless—but not at the expense of the planet. This is why we've taken certain measures to ensure we offer environmentally responsible services to all our clients.
We achieve these green levels of cleaning through the use of:
Energy-efficient HEPA filter backpack vacuums, which eliminate pollutants in the air
Microfiber cloths, which require less commercial cleaning solutions and reduce waste
Safe, hospital-grade cleaning solutions that don't emit any bad chemical smells or leave behind any toxic residue
Environmentally friendly paper products (hand towels, toilet paper and facial tissues) with high percentages of recycled content
We recognize that all business needs are different. That's why we offer a broad range of customizable commercial cleaning packages to fit your budget. With cleaning services starting as low as $250 a month, you'll never experience white-glove cleaning services at these prices anywhere else.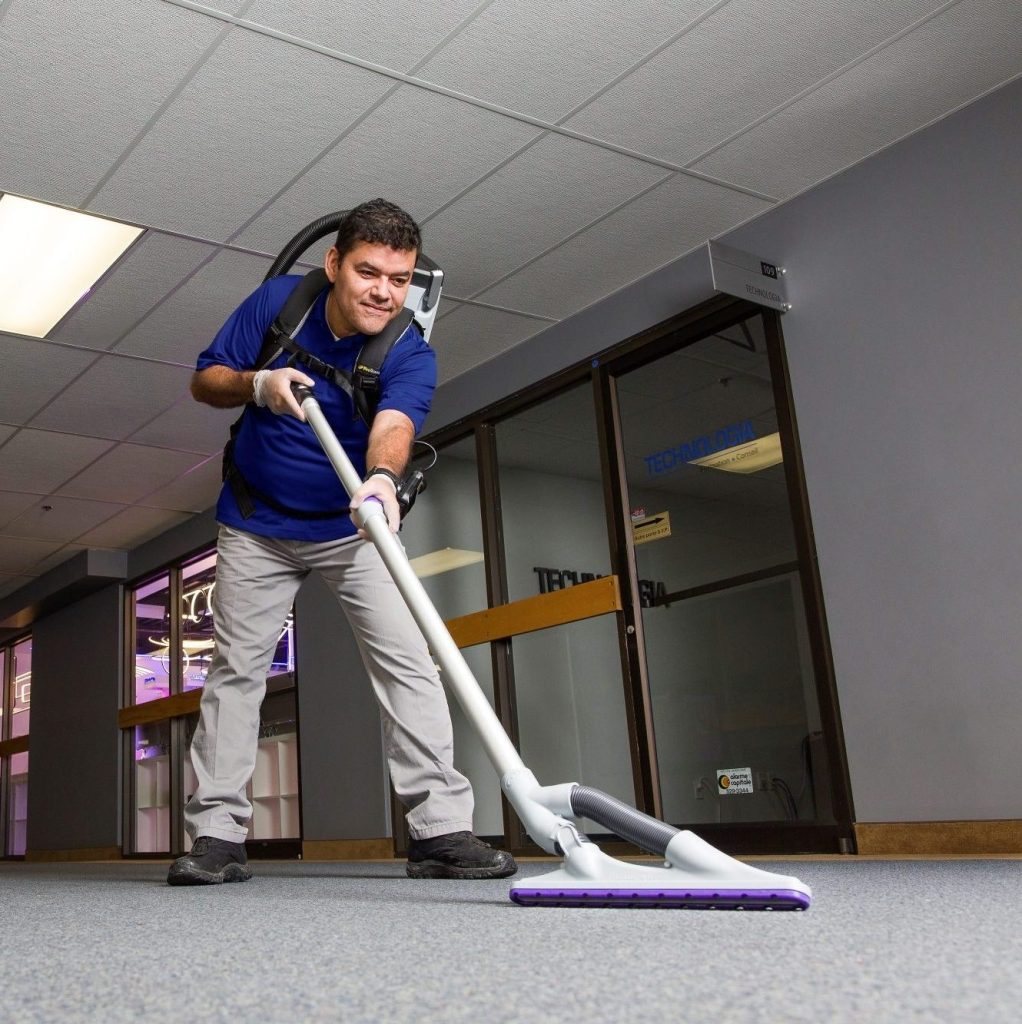 CALL YOUR LOCAL JAN-PRO TEAM TODAY. AND ENJOY THE JAN-PRO DIFFERENCE.